Send me alerts every days
Location: Sheetz Corporate - Altoona, PA
PRIMARY PURPOSE OF THIS POSITION:
Maintain the appearance, order and cleanliness of the Distribution Center administrative areas.
ESSENTIAL FUNCTIONS: (other duties may be assigned)
Monitor public areas throughout the day for removal of all litter, emptying of trash receptacles, and removal of spots and/or marks from wall and glass surfaces. Respond to calls from employees for spills for immediate cleaning.
Inspect all restrooms throughout the day for cleanliness and maintenance of an adequate supply of toiletries for replenishment of soap, paper towels, toilet paper, sanitary products, toilet seat covers. Clean mirrors, wipe down sinks and toilets, and remove dirt, stains, and trash. Floors around toilet fixtures and under urinals should be cleaned as needed by visual inspection.
Stock all coffee/break areas with coffee, water, and condiments. Monitor supply throughout the day to ensure areas are well stocked.

Arrange conference rooms in various layouts based on employee requests. Monitor conference room schedule to inspect for cleanliness and proper set up in between scheduled meetings. Respond to requests by employees for additional conference room requests.

Collaborate with the catering department to ensure spaces are set up appropriately when food is requested.

Audit first aid kit supplies and AED battery status.

Perform any tasks which are assigned on the electronic work order system. This may include using technology to take before/after pictures.

Assist mailroom staff in accept deliveries at loading dock and reception area. Communicate with mail staff and security to ensure deliveries are received and sent in a timely manner.
JOB PERFORMANCE is primarily measured by:
Productivity

Quality

Safety

Teamwork
REQUIREMENTS: (Equivalent combinations of education, licenses, certifications and/or experience may be considered)
Education
High School Diploma/GED Required
Experience
No prior experience required
ABOUT SHEETZ
Sheetz, Inc. is a fast-growing, family-owned, food/convenience company that has been in business since 1952. Sheetz has over 600 locations in Pennsylvania, Ohio, Virginia, West Virginia, Maryland and North Carolina.

Our mission at Sheetz has been to meet the needs of customers on the go. Of course, things have changed over those nearly 70 years. Life is faster and busier, and customers expect us to be there when they need us most. One thing that hasn't changed is our commitment to our customers, our employees and the communities in which we operate. Sheetz donates millions of dollars every year to the charities it holds dear.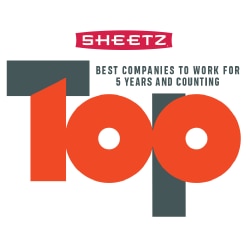 Nearest Major Market: Altoona
Nearest Secondary Market: Johnstown