Pre-Construction Coordinator
Location: Sheetz Corporate - Altoona, PA

 

PRIMARY PURPOSE OF THIS POSITION:

Assist the Pre-construction Program Manager in providing technical and administrative support to the Construction, Design, Engineering, and Real Estate teams through the use of construction management software. Facilitate organization, communication, and reporting to assure that all aspects of each construction project are set up in the system prior to construction, and all required information is received as needed.

ESSENTIAL FUNCTIONS: (other duties may be assigned)
Be proficient in the use of our construction management software (Projectmates) for all departments in order to act as the lead administrator responsible for day to day function of the system, handling technical difficulties encountered, and bring better understanding of the full potential of the program.
Facilitate the rollout of changes to the program, including training for various departments to be proficient in the execution of each rollout.
Responsible for setting up projects within the system, adding all needed users to execute the project, and developing initial schedule template for each project.
Summarize current processes in construction and store development. Utilize the construction management software to implement organization and modifications to current processes in order to promote efficiency and consistency.
Develop and generate regular reporting to be issued to the director of construction, regional managers, pre-construction program manager, and project managers as needed to track projects schedules, budgets, and outstanding project items.
Schedule and facilitate all pre-construction meetings for new stores in coordination with the construction, engineering, and real estate teams. Note pertinent information and assign tasks to individuals as needed to complete the project.
Monitor project status report in order to assure that that all plans and documents needed for construction, including all necessary changes, are available when needed.
Interact with various departments and outside vendors to assure all project documentation is provided within the construction management system as needed for execution of each project.
Understand general plan changes in order to assist in change integration to the construction teams by maintaining a master list of items to be addressed in the field.
Assist in change integration to the field by being familiar with the construction schedule for each project and when/how changes can be implemented in the field and to which projects.
REQUIREMENTS:
(Equivalent combinations of education, licenses, certifications and/or experience may be considered)
Education
Associates Degree in Construction Management, Business, or related field required
Experience
Minimum 2 years' experience in construction related projects (reading blueprints, understanding construction processes and scheduling) required
General understanding of computer / construction software applications required
Licenses/Certifications
Tools & Equipment
ABOUT SHEETZ
Sheetz, Inc. is a fast-growing, family-owned, food/convenience company that has been in business since 1952. Sheetz has over 600 locations in Pennsylvania, Ohio, Virginia, West Virginia, Maryland and North Carolina.

Our mission at Sheetz has been to meet the needs of customers on the go. Of course, things have changed over those nearly 70 years. Life is faster and busier, and customers expect us to be there when they need us most. One thing that hasn't changed is our commitment to our customers, our employees and the communities in which we operate. Sheetz donates millions of dollars every year to the charities it holds dear.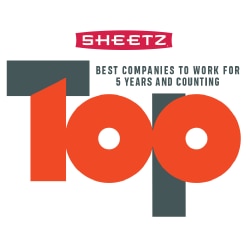 Nearest Major Market: Altoona
Nearest Secondary Market: Johnstown
Apply now »