Location: Sheetz Corporate - Claysburg, PA
Schedule: Hybrid - 2 days remote and 3 days in office
PRIMARY PURPOSE OF THIS POSITION:

Analyze, design, develop, deliver and evaluate effective and efficient training solutions that increase job performance and develop the skills of all employees in order to execute the Sheetz mission.

ESSENTIAL FUNCTIONS: (other duties may be assigned)
Provide support to other Instructional Designers and Specialists as needed to ensure all project plans are met.
Use sound project management methodologies on assigned projects to track program deliverables, identify and resolve barriers, ensure deliverables meet requirements, and ensure program milestones and timelines are met. Designers will manage multiple assigned projects at once.
Conduct needs analysis, which includes, but is not limited to, analyzing learners, conducting task analysis, performing gap analysis and establishing measures to evaluate the effectiveness of the training solutions as needed with the support of an Instructional Specialist to measure learner's knowledge, skills, behaviors, and improved job performance.
Design and develop training solutions using Sheetz standards and templates to accomplish the desired performance objectives, in alignment with department and/or organizational objectives.
Apply knowledge of learning theories, instructional design models, learning modalities and emerging technologies to all training solutions.
Implement and deliver creative and innovative training solutions utilizing a variety of learning methods and modalities methods as well as integrate training solutions within appropriate curriculums and learning systems.
Ensure all training solutions, development programs, and reference materials are current.
Collaborate and promote working relationships with business partners and subject matter experts to establish learning objectives, review content for accuracy and meaning to ensure efficient and effective training solutions.
Research the latest advancements in technology, trends, and best practices in the learning and development industry.

REQUIREMENTS: (Equivalent combinations of education, licenses, certifications and/or experience may be considered)

Education
Bachelor's Degree in Instructional Design or related field required
Experience
Minimum of 2 years combined experience in analyzing, designing, developing, delivering and evaluating training solutions required
Minimum of 2 years of research experience in current trends of learning theories, methods, and models required
Minimum of 2 years of project management experience required
Licenses/Certifications
Instructional Design Certification preferred
Valid Drivers' License
Tools & Equipment
ABOUT SHEETZ
Sheetz, Inc. is a fast-growing, family-owned, food/convenience company that has been in business since 1952. Sheetz has over 600 locations in Pennsylvania, Ohio, Virginia, West Virginia, Maryland and North Carolina.

Our mission at Sheetz has been to meet the needs of customers on the go. Of course, things have changed over those nearly 70 years. Life is faster and busier, and customers expect us to be there when they need us most. One thing that hasn't changed is our commitment to our customers, our employees and the communities in which we operate. Sheetz donates millions of dollars every year to the charities it holds dear.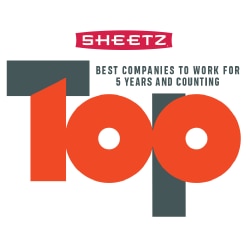 Nearest Major Market: Altoona
Nearest Secondary Market: Johnstown
Apply now »