FSQA Process Validation Supervisor
Location: Claysburg Distribution Center -242 Sheetz Way 

 

PRIMARY PURPOSE OF THIS POSITION:

Provide leadership and technical expertise in validating and verifying the effectiveness of food safety programs through product specifications, process validation studies, and finished product shelf life testing. Ensure laboratory testing meets the company's needs and objectives for microbiological and analytical testing.

ESSENTIAL FUNCTIONS: (other duties may be assigned)
Conduct risk assessments and validation studies to verify the food safety component of new culinary products, specifications, preparation procedures, and equipment.
Design microbiological challenge and validation studies for food products, including but not limited to, shelf life, handling, and coding.
Assist SDS teams in developing microbiological studies for understanding and management of product and process risks such as CCP validation experiments, prerequisite program validation, etc.
Review and approve raw material and ingredient specifications on behalf of the FSQA team.
Provide food safety leadership in new product development initiatives.
Effectively communicate and liaise between R&D and Store Operations to problem-solve, troubleshoot, and resolve food safety issues. This includes education and technical information sharing to continually increase overall knowledge and competency of food safety within Sheetz.
Maintain working knowledge of federal, state, and local regulations and disseminate knowledge to SDS teams as needed.
Effectively communicate with all Corporate and SDS Management teams to ensure accuracy of information and adherence to established food safety and regulatory programs.
Supervise laboratory operations and personnel as such: maintain good laboratory practices and training programs, monitor inventory & coordinate laboratory purchasing per LIM system, and ensure all laboratory equipment is calibrated and maintained in good working order.
Accurately perform and interpret test results, notifying the appropriate personnel of deviations.
Maintain a high degree of technical competence by reading scientific journals and being aware of food industry issues and trends.
Responsible for monitoring the results of a third party microbiological testing lab along with onsite daily testing procedures.
Act as facility backup to DC FSQA Manager for SQF Programs, STARS investigations & reporting, and Product Recalls & Withdrawals.
REQUIREMENTS:
Education
BS degree in Biology or related field (Biology, Microbiology, Chemistry, Food Science, etc.) required
Experience
Minimum of 3 years in food safety or related field required
Three years or more of analytical laboratory experience preferred
Prior employee supervisory experience required
Working knowledge of aseptic sampling technique, automated lab equipment, and acceptable AOAC methods and procedure required
Licenses/Certifications
Advanced HACCP Certification
Seafood HACCP Certification
Implementing SQF Systems
Principles of Internal Auditing
FSPCA Preventive Controls Qualified Individual
ISO/IEC 17025 Training
ServSafe Certification
Valid Driver's License
Tools & Equipment
Hand tools (including by not limited to hammer, measuring devices, wrench, level, etc.)
Lab testing equipment (including but not limited to pH Meter, Aw Meter, Moisture Analyzer, Microbiological Testing Equipment)
ABOUT SHEETZ
Sheetz, Inc. is a fast-growing, family-owned, food/convenience company that has been in business since 1952. Sheetz has over 600 locations in Pennsylvania, Ohio, Virginia, West Virginia, Maryland and North Carolina.

Our mission at Sheetz has been to meet the needs of customers on the go. Of course, things have changed over those nearly 70 years. Life is faster and busier, and customers expect us to be there when they need us most. One thing that hasn't changed is our commitment to our customers, our employees and the communities in which we operate. Sheetz donates millions of dollars every year to the charities it holds dear.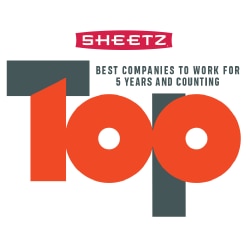 Nearest Major Market: Altoona
Nearest Secondary Market: Johnstown
Apply now »