Location: Sheetz Corporate - Altoona, PA
PRIMARY PURPOSE OF THIS POSITION:

Ensure and verify that foods produced/assembled and distributed through Sheetz Distribution Services (i.e. Distribution Centers & Sheetz Bros. Kitchens) adhere to established food safety & quality standards through implementation of food safety and quality assurance programs. Act as SQF Practitioner to the SDS Claysburg facility and as a point of contact for food safety recalls, quality alerts, and complaints/issues relating to food safety and quality of foods.

ESSENTIAL FUNCTIONS: (other duties may be assigned)
Lead a team of FSQA Technicians and maximize the development of internal talent through regular performance coaching, performance reviews and presenting developmental opportunities.
Align area objectives with the strategic goals of the company & department.
Monitor annual budgets for assigned area of responsibility to maximize profitability.
Effectively communicate with all Corporate and SDS Management teams to ensure accuracy of information and adherence to established food safety and regulatory programs.
Responsibility and authority as Lead SQF practitioner in the SDS - Claysburg facility to:

Oversee the development, implementation, review and maintenance of the SQF System, including food safety fundamentals and food safety plans.

Take appropriate action to ensure the integrity of the SQF System; and

Communicate to relevant personnel all information essential to ensure the effective implementation and maintenance of the SQF System

Conduct validation and verification activities to ensure the integrity and maintenance of the SQF System.

Maintain working knowledge of federal, state, and local regulations and work with regulatory agencies on matters pertaining to products, product recalls, and quality alerts relating to the SDS - Claysburg facility.
Oversee, train, and coordinate proper receiving, preparation, storage, and shipping of SDS products as it pertains to food safety.
Verify compliance of FSQA programs such as SQF Systems, SOP's, SSOP's, Food Safety Plans, HACCP, GMP's, GDP's, Specification Verification, Chemical Testing, Allergen Control, Traceability, Packaging, etc.
Supervise all data collection & product testing/evaluation at the SDS - Burlington FSQA Lab, including but not limited to, maintaining GLPs and required lab certifications, disseminating reports to appropriate departments, and managing laboratory budget and inventory.
Evaluate third party audit providers and their standards, along with regularly attending audits and vendor facilities to verify they are meeting our high standards on food safety and quality.
Investigate and maintain documentation on product issues & complaints received from customers.
Provide support to the Senior FSQA Regulatory Manager as needed.

REQUIREMENTS: (Equivalent combinations of education, licenses, certifications and/or experience may be considered)

Education
4 year degree in food safety/science or related field required
Experience
5 years food safety experience or equivalent required
Prior employee supervisory experience preferred
Licenses/Certifications
ANSI Accredited Food Protection Manager Certification

Food Defense Certification

Advanced HACCP Certification

Seafood HACCP Certification

Implementing SQF Systems

Principles of Internal Auditing

FSPCA Preventive Controls Qualified Individual

NEHA CCFS Credential (Certified in Comprehensive Food Safety)

Valid Driver's License
Tools & Equipment
Hand tools (including by not limited to hammer, measuring devices, wrench, level, etc.)

Lab testing equipment (including but not limited to pH Meter, Aw Meter, Moisture Analyzer, Microbiological Testing Equipment)
ABOUT SHEETZ
Sheetz, Inc. is a fast-growing, family-owned, food/convenience company that has been in business since 1952. Sheetz has over 600 locations in Pennsylvania, Ohio, Virginia, West Virginia, Maryland and North Carolina.

Our mission at Sheetz has been to meet the needs of customers on the go. Of course, things have changed over those nearly 70 years. Life is faster and busier, and customers expect us to be there when they need us most. One thing that hasn't changed is our commitment to our customers, our employees and the communities in which we operate. Sheetz donates millions of dollars every year to the charities it holds dear.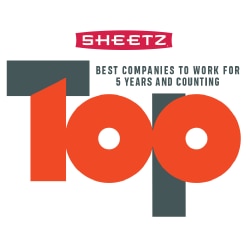 Nearest Major Market: Altoona
Nearest Secondary Market: Johnstown
Apply now »