Location: Sheetz Distribution Center 242 Sheetz Way Claysburg, PA

 

PRIMARY PURPOSE OF THIS POSITION:

Conduct all microbial and chemical analyses for shelf life studies and molecular (PCR) testing for SBK-Claysburg & SBK-Burlington environmental monitoring program (EMP).

ESSENTIAL FUNCTIONS: (other duties may be assigned)
Conduct, document, and communicate results of all microbial evaluations to management teams.
Conduct microbiological testing of environmental and food samples from SBK-Claysburg and SBK-Burlington.
Utilize aseptic techniques during sample preparation and microbiological/chemical analyses.
Maintain laboratory in an organized and sanitary condition while maintaining and utilizing good laboratory practices (GLPs).
Ensure proper labeling, handling, storage, use and disposal of solutions, waste, and microbiological cultures.
Prepare and sterilize culture media.
Under the direction of FSQA management, maintain inventory & order lab supplies.
Knowledge of standard laboratory safety procedures.
Maintain working knowledge and ability to conduct analyses through PCR testing methodology as well as conventional plating techniques to enumerate microbiological colony counts and interpret results.
Review results for accuracy and suitability prior to approval, initiating or recommending additional testing per customer requests if required.
Identify, communicate and document non-conformities with samples, instrumentation and methodologies, assisting with troubleshooting as assigned.
Extract desired data analyses from samples using standard chemical procedures such as water activity, moisture, color, and pH using standard laboratory equipment.
Initiate background and supplemental research. Prepare results, compile, analyze, and interpret data.
When required, assist with method verification activities as directed.
Participate in Petri film Laboratory Proficiency Program (AOAC) and Listeria spp. Proficiency Program (NSI Labs). Maintain satisfactory rating on all sample tests and provide summary results.
Provide support to the Food Safety & Quality Assurance Department, including backup for the FSQA Product Specialist, as needed. Provide training to other laboratory staff as needed.
REQUIREMENTS:
(Equivalent combinations of education, licenses, certifications and/or experience may be considered)
Education
BS Degree in Biology or related field (Biology, Microbiology, Chemistry, Food Science, etc.) required
Experience
Minimum of 3 years experience in a laboratory environment required
Licenses/Certifications
HACCP Certification (Basic and Advanced)
Required laboratory certifications
Tools & Equipment
Hand tools (measuring devices, etc.)
ABOUT SHEETZ
Sheetz, Inc. is a fast-growing, family-owned, food/convenience company that has been in business since 1952. Sheetz has over 600 locations in Pennsylvania, Ohio, Virginia, West Virginia, Maryland and North Carolina.

Our mission at Sheetz has been to meet the needs of customers on the go. Of course, things have changed over those nearly 70 years. Life is faster and busier, and customers expect us to be there when they need us most. One thing that hasn't changed is our commitment to our customers, our employees and the communities in which we operate. Sheetz donates millions of dollars every year to the charities it holds dear.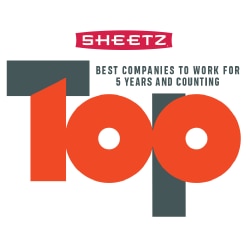 Nearest Major Market: Altoona
Nearest Secondary Market: Johnstown
Apply now »