Location: Sheetz Corporate - Altoona, PA

 

PRIMARY PURPOSE OF THIS POSITION:

Translate marketing objectives into captivating campaigns that inspire action while maintaining consistency in the expression of our Brand in all channels; possess exceptional writing and research skills and the ability to adapt to the varying needs of Sheetz internal clients.

ESSENTIAL FUNCTIONS: (other duties may be assigned)
Create original copy, content and concepts that drives target audiences to action
Participate in projects including: advertising campaigns, all forms of social media, digital marketing and communications, recruiting campaign, product naming, broadcast, radio/audio scripting, brand storytelling, events and sponsorship support.
Translate brand's core identity and brand values into the right call to action based on project objectives
Interpret creative briefs and collaborate with individuals and teams to devise the best branded solutions
Ensure the message is relevant to the needs of brands target audiences and most loyal customers
Collaborate with graphic and digital designers to inform the work of visual design
Work with internal teams to understand the key drivers in all segments of our business.
Present ideas and drafts to clients for buy in using a variety of methods based on the project deliverables
Participate in brainstorming process and conduct research to develop or support writing or concept development.
Seek alternative ways to inform and entertain via written, oral, and visual media channels.
Maintain accountability for checking all advertised content is truthful, accurate and complies with advertising law and industry best practices.
REQUIREMENTS:
(Equivalent combinations of education, licenses, certifications and/or experience may be considered)
Education
Bachelor's degree in Journalism, English, Communications, or related field required.
Experience
Minimum of 3 years of copy writing experience and portfolio of work required.
Social media or content marketing experience preferred
Minimum of 1 year experience with media production, communication, and dissemination techniques and methods preferred
Thorough understanding of principles and methods for showing, promoting, and selling products or services preferred.
Proficient knowledge of marketing strategy and tactics across print and digital along with current trends in product demonstration and sales techniques preferred.
Licenses/Certifications
Tools & Equipment
ABOUT SHEETZ
Sheetz, Inc. is a fast-growing, family-owned, food/convenience company that has been in business since 1952. Sheetz has over 600 locations in Pennsylvania, Ohio, Virginia, West Virginia, Maryland and North Carolina.

Our mission at Sheetz has been to meet the needs of customers on the go. Of course, things have changed over those nearly 70 years. Life is faster and busier, and customers expect us to be there when they need us most. One thing that hasn't changed is our commitment to our customers, our employees and the communities in which we operate. Sheetz donates millions of dollars every year to the charities it holds dear.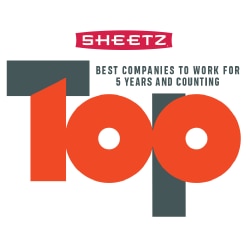 Nearest Major Market: Altoona
Nearest Secondary Market: Johnstown
Apply now »