Send me alerts every days
Executive Director of Sheetz Family Charities
Location: Sheetz Family Charities - ALTOONA, PA
PRIMARY PURPOSE OF THIS POSITION:

To manage the activities of Sheetz Family Charities, including planning, fundraising, grant-writing, communication, program execution, event coordination, and administration of funds. Responsible for assisting the board with the development of a strategic plan to support the mission of the charity.

ESSENTIAL FUNCTIONS: (other duties may be assigned)
Assist the Sheetz Family Charities Board in development of a mission statement and strategic plan for its operation. Ensure periodic review to reflect changing needs.
Recommend objectives, plans, or programs for implementation which are consistent with the approved mission and strategic plan.
Assist in identifying community needs, and evaluating proposals submitted to address identified needs.
Support all fundraising programs for Sheetz Family Charities including coordination and communication of all gifts, ensure gifts are utilized appropriately, and recommend new programs.
Identify public and private grants for which the charity is eligible and submit applications.
Advise the committee regarding programs for public relations and fundraising. Coordinate Sheetz Family Charities' public relations activities using appropriate media outlets
Prepare and monitor an annual budget for review and approval by the Sheetz Family Charities Board
Oversee, through a qualified subcommittee, the professional management and investment of funds.
Coordinate a variety of Sheetz Family Charity events throughout the year. These would include events such as the annual Sheetz For the Kidz Shopping Event, the Golf Classic, store-level events, etc.

REQUIREMENTS: (Equivalent combinations of education, licenses, certifications and/or experience may be considered)

Education
Bachelor's degree in related field required
Master's preferred
Experience
5 years experience in communications, financial management, strategic planning, grant writing, fundraising and fund distribution, program development, evidence-based outcome measurement
Licenses/Certifications
Tools & Equipment
ABOUT SHEETZ
Sheetz, Inc. is a fast-growing, family-owned, food/convenience company that has been in business since 1952. Sheetz has over 600 locations in Pennsylvania, Ohio, Virginia, West Virginia, Maryland and North Carolina.

Our mission at Sheetz has been to meet the needs of customers on the go. Of course, things have changed over those nearly 70 years. Life is faster and busier, and customers expect us to be there when they need us most. One thing that hasn't changed is our commitment to our customers, our employees and the communities in which we operate. Sheetz donates millions of dollars every year to the charities it holds dear.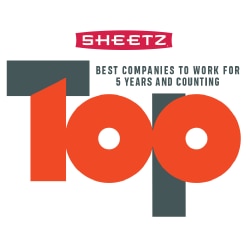 Nearest Major Market: Altoona
Nearest Secondary Market: Johnstown
Apply now »